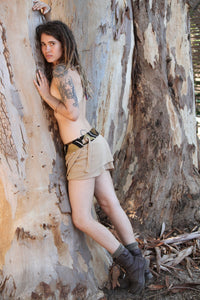 Hand crafted mini skirt with made with 100% cotton Jute, finished off with the traditional bogolan, a handmade Malian cotton fabric traditionally dyed with fermented mud.
One size fits all. This elegant wrap around skirt, perfect for casual summer evenings or hot summer days. Beautiful mud cloth belt detail. 
Handmade, slow production One size/adjustable. Please note that all the mudcloth belts do vary on he skirts, each piece is handmade and unique, and this is what we love about them.
Available in black or camel with belt design variations.
▲MUDCLOTH, thin strips of plain fabric are woven together into squares that are then stitched together. After the construction of the cloth, the fabric is then dyed in baths of leaves and branches. This process is used to bind the dye to the fabric.
The fabric is then laid out to dry in the sun, after which beautiful patterns are intricately and carefully painted using a special kind of mud. The mud, collected from numerous streams and ponds and left to ferment over seasons.
As the mud dries, it changes colors, from dark brown or black to a gray color. The excess mud is washed off the fabric and the process is repeated many times. With each repetition, the affected area becomes darker. The unpainted areas are treated with a bleaching agent, turning the natural yellow color brown. After sun drying for a week, the fabric is washed off and leaves the characteristic white pattern on a dark background.   
The production process is long and tedious yet the finished product is indeed a work of art.
Our clothing range preserves the art of traditional tailors, craftsmanship and textiles while supporting local small scale artisans in India. Our production consists of 8 local artisans. Together we design and create items made from the fabric we source at a local textile market in India. Tradesmen from Mali supply us with the mudcloth featured in our clothing range, sourced in west Africa. Our designs pay homage to traditional textiles. 
Made with natural fibres of hand loomed cottons, pieces featuring handmade mudcloth details and hand block prints. Catering to the appreciator of slow fashion, and lovers of tribal art.
One size mini wrap around skirt

Available in black or camel

100% cotton Jute

Traditional Bogolan belt detail
Handmade by us in India

*Made with love, handle with love! Hand wash only in cold water with natural soap, hang to dry in shady area.