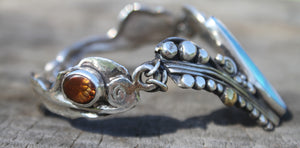 A beautiful example of our custom made silver jewelry.
Our Silver Collection is designed and curated by Rodrigo Salazar Castro, an extraordinary artisan from Mexico. Rodrigo apprenticed under the renowned and respected silversmith Poncho Gonzales. 

Under the tutelage of this master artisan Rodrigo studied the ancient techniques of jewelry making in the small Mexican village of Xilitla. Using his finely honed skills and his passion for the craft, Rodrigo painstakingly creates each unique piece in these ancient traditions. 

Each piece carefully crafted with precision and passion in our home in Cape Town, South Africa.

We love creating individual pieces inspired by you. From choosing your preferred material to your favourite gemstone, send us a description, rough sketch or reference material and we will be delighted to turn your vision into a reality.
Please note, Most pieces take up to 1 week to create so please be patient whilst we create your piece. Prices start from 60 Euros upwards, depending on the intricacy of your design and the work entailed.
Made to order

Handmade by us

Unique designs
To order please email us at makembaboutique@gmail.com